Shangri-La
Vancouver, Canada, Kanada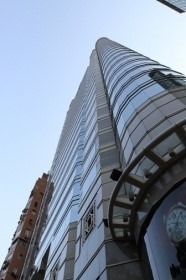 About the Hotel: Set in Vancouver's downtown core at the intersection of West Georgia and Thurlow Street, Shangri-La Hotel, Vancouver occupies the first 15 floors of a new 61-story landmark building, a multi-purpose complex built incorporating innovative residential living, high-end retail shopping, signature restaurants and an outdoor public art space curated by the Vancouver Art Gallery.
Three design firms, under the direction of Vancouver's James Cheng, came together to create a destination that integrates British Columbia's west coast style and Shangri-La's Asian heritage. Areas flow and transition from light and airy to dark and dramatic – from the hotel's lobby with three-story windows, sandstone floors and walls with Asian tables and vases to CHI, The Spa with its low lighting, earth tones and, teak and maple wood, accented by handcrafted art pieces from Nepal.
Distinct among the facilities and services of the 119-room hotel are guest rooms that average 52 square meters (550 square feet) – among the largest in Canada; CHI, Shangri-La's signature spa brand; MARKET by Jean-Georges, the first restaurant in Canada for three-star Michelin chef Jean-Georges Vongerichten; and intimate meeting space that includes the first private hotel screening room in Vancouver. Luxury finishings include: Porthault linens in each guest room, B & B Italia furniture in rooms and public spaces, Dedon outdoor furniture on guest room balconies, crystal chandeliers commissioned from Italy and art, chosen to suit each space occupied.
About the Integration from INTEGRATED : The BACnet FIAS solution interacts with the MICROS-FIDELIO Opera hotel system and the SIEMENS APOGEE BACnet building management system. By monitoring the room status from the hotel booking system, the BACnet FIAS solution informs the BMS via representation of the rooms as BACnet I/O Objects. This information optimizes the room conditions, saving on equipment run time maintenance and saving on energy. The solution is also able to receive guest language details allowing tailoring of guest interfaces in the room and to receive pre-check-in signals to further optimize the room conditions for the guest arrival.