Theodor-Heuss-Allee 100
Frankfurt, Germany, Deutschland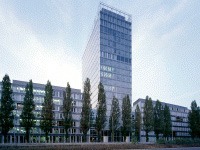 Located in the heart of Frankfurt's City West district, the Theodor-Heuss-Allee 100 complex consists of three prestigious office buildings providing 450,000 square feet of commercial space for the Allianz Dresdner Banking Group, one of EU's largest financial institutions.
Unique prolems to solve: Integration of 20,000 inputs/outputs from subsystems associated with HVAC, lighting, fire protection, smoke evacuation and electrical distribution to provide interoperability and single-seat supervision from any operator workstation.
High-performance integration of multiple industry protocol standards included the main HVAC/ electrical systems (BACnet(r) on Ethernet), intelligent fire dampers (Profibus) and the office lighting and automated blinds control (European Installation Bus). Interoperability had to meet strict performance requirements, particularly system response times for smoke control.
System solution: BACnet® protocol on Ethernet was chosen as the primary backbone for the integration. The Delta Controls system monitors and controls almost 4,000 physical inputs/outputs which are connected directly to the controllers residing on the BACnet/Ethernet network. The system provides high-performance interoperability with other subsystems, and enables high-speed user access from operator workstations. Gateways connect the lighting, automated blinds and fire dampers into the BACnet/Ethernet network.
Results: The highest levels of interoperability and operator response times, as well as efficient building operation, office comfort and occupant safety have been attained. The system has exceeded all performance requirements, including sub-one-second critical response.