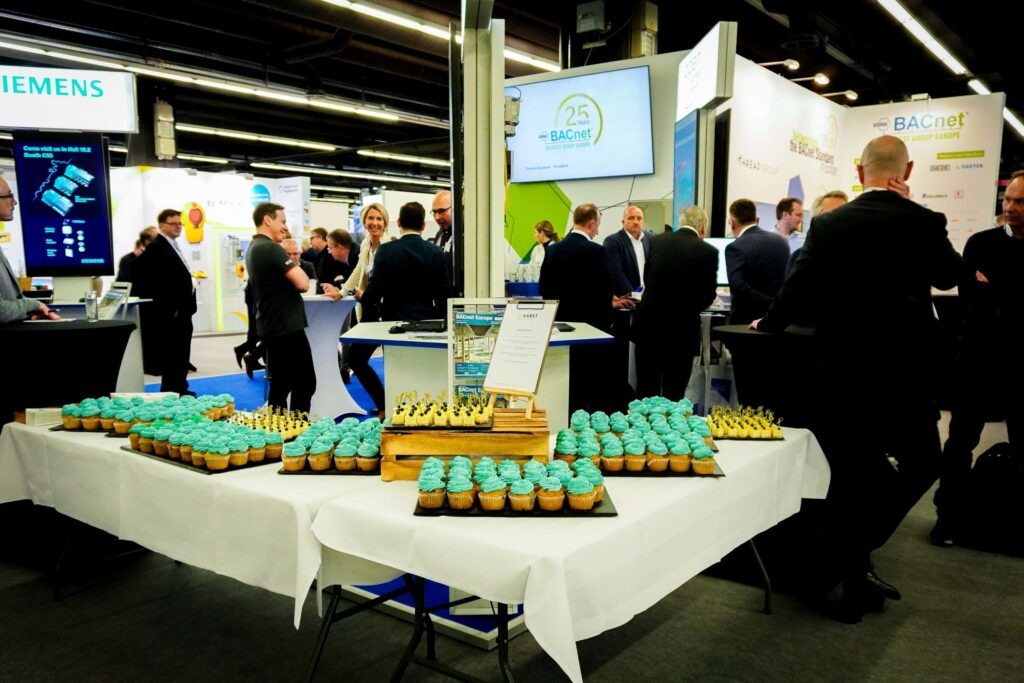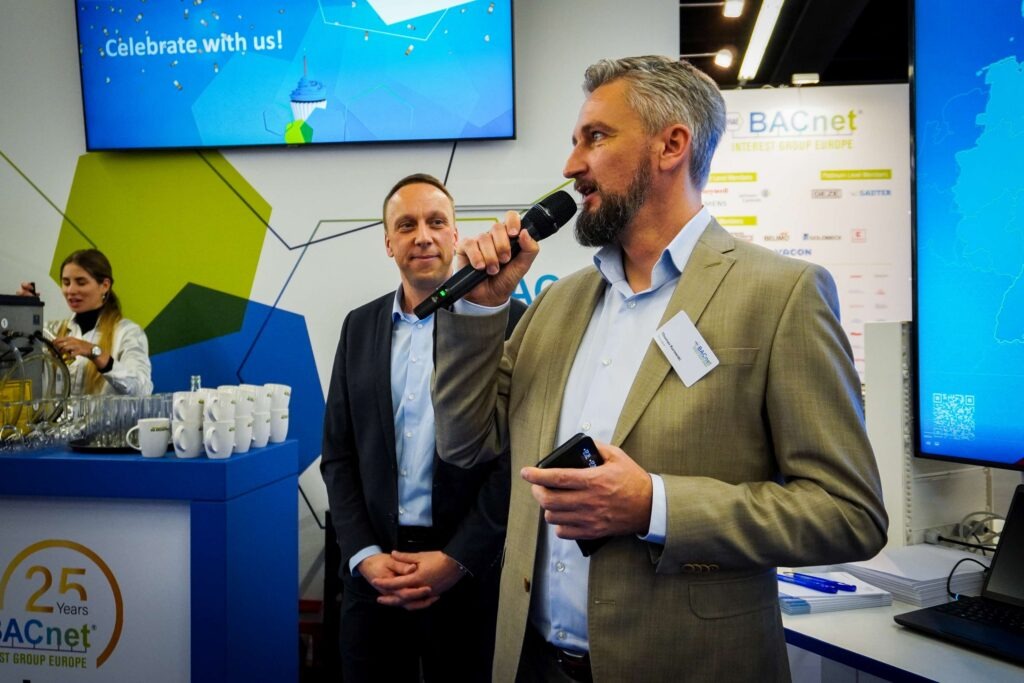 The joint booth of the BACnet Interest Group Europe (BIG-EU) at the ISH in Frankfurt am Main (March 13-17, 2023) with seven exhibitors from the BACnet community was a great success. The products and services presented attracted great interest. A highlight was the celebration of the 25th anniversary of the BIG-EU. In the course of this celebration, the BIG-EU presented an award for the best student thesis for the first time.
For more than 20 years, the BIG-EU has regularly been present at the ISH with a joint stand, providing information about BACnet technology and presenting new developments. So also this year. The companies ALRE-IT, Bihl & Wiedemann, Johnson Controls, Kieback & Peter, OAS/ProSystems and Siemens Schweiz AG showed their products and services as well as exciting applications around BACnet. Representatives of the BIG-EU were available to answer the numerous visitors' questions about BACnet. The response showed: The interest in BACnet is unbrokenly large and increases further in view of the increasing challenges to the energy efficiency and the economic building operation.
Celebration of the 25th anniversary of the BIG-EU and award ceremony
A highlight at the joint booth was the BIG-EU 25th anniversary celebration on March 14. The BIG-EU booth was the meeting point of the building automation industry at ISH that evening. Representing the association, the board could welcome many guests.
In his welcoming speech, President Thomas Kurowski (Siemens) recalled the founding of the BIG-EU, when more than 40 representatives of building automation companies, universities and industry organizations, who had traveled from the USA and all over Europe, also met in Frankfurt to discuss the establishment of a European organization for the further development and dissemination of the BACnet standard. 17 of the participants at that time founded the BACnet Interest Group on May 14, 1998. Numerous veterans of the BIG-EU were present for the celebration, e.g. the first BIG-EU president Nils Meinert.
Today the BIG-EU has more than 120 members from all regions of Europe as well as from Australia and North America. BACnet has long been the world's leading standard for vendor-neutral data transmission in industrial building automation.
The fact that the BIG -EU always has the future in its sights was proven by the first-time presentation of the BIG-EU Award. This award was created by the BIG-EU to honor outstanding student theses in connection with the BACnet protocol as part of the promotion of young talent. The first prize winner is Timo Schwabengruber with his bachelor thesis on "BACnet and IT Security", which he wrote under Prof. Marko Schuba from the Department of Electrical Engineering and Information Technology at the Aachen University of Applied Sciences. Prof. Dr.-Ing. Tobias Frauenrath from the Smart Building Engineering (SBE) course in the same department accepted the award on behalf of Timo Schwabengruber, who was unable to attend, from BIG-EU board member Tobias Plath (Johnson Controls), who emphasized: "The topic of IT security has the highest priority in building automation. Supporting young talent in our industry is important to secure the future."